We serve the Central Whidbey Island Community.
Distribution Information
We are once again providing in-person service to our clients from the Central Whidbey Island community at the Food Bank location. We distribute food on the 2nd and 4th Wednesdays of most months from 2:00 p.m. - 5:00 p.m. For detailed calendar go to the Distribution page.
We are located at 203 North Main Street; we share our building with the Boys and Girls Club. See Map of Coupeville.
---
FOOD BANK NEWS
Thanksgiving letter from the Queen Bee.
The food bank won "Nonprofit of the Year, 2022" from the Coupeville Chamber of Commerce. Also we are the lucky winner in the Coupeville Lions Shopping Spree Raffle.Click for details.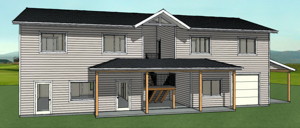 Gifts from the Heart is building a new home! It will consist of a food bank on the first floor and two affordable apartment rentals on the second floor. For more information go to our new building.page on this web site.
---
Electronic Benefits Transfer (EBT) Cards
Bay View Farmers Market will now accept Electronic Benefits Transfer (EBT) Cards as payment for a Community- Supported Agriculture (CSA) share.
This is related to the Federal Supplemental Nutrition Assistance Program (SNAP).